Equipment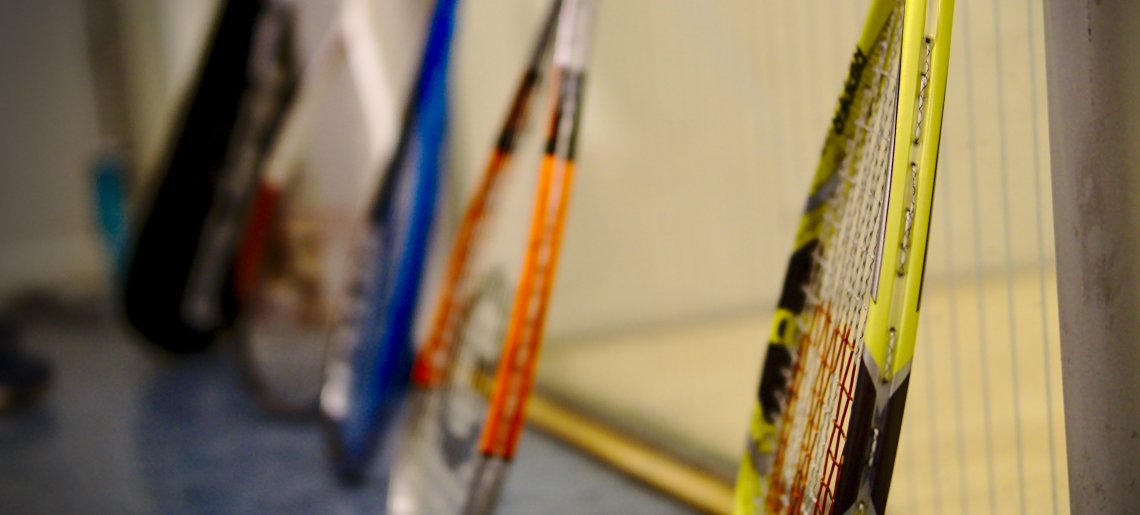 OSI Squash covers the cost of all balls used during our sessions, so you do not need to bring your own. We always have a supply of beginner's balls (single blue dot), club balls (single yellow dot) and tournament balls (double yellow dot) at our disposal. Furthermore, we have rackets you can borrow if you do not have your own. We also sell a selection of rackets from Grays, Eye and Tecnifibre, at a greatly reduced price. In addition, we also sell sportswear (OSI Squash t-shirts and sweatshirts), grips, and strings. Restringing your racket will cost around 150 NOK (if you bring strings) at Myrens. If you have any questions or would like to purchase something, contact the board.
We have trial rackets for each of the rackets we sell, so you can try them out before choosing which one suits you best.
Please note that our equipment is only for sale for members.
Prices:
| | | | |
| --- | --- | --- | --- |
| Product name: | Our price: | Retail price: | Availability: |
| OSI Squash t-shirt (all men's and women's sizes) | 50 NOK (1 free shirt for all new members) | 230 NOK | In stock |
| OSI Squash shorts | 100 NOK | 225 NOK | Available on order |
| OSI Squash sweatshirt | 200 NOK | 449 NOK | In stock |
| Grays Nanotec 120 | 670 NOK | 1390 NOK | In stock |
| Grays Light Blue Classic | 760 NOK | 1345 NOK | Discontinued |
| Grays Innovation Pro | 890 NOK | 1560 NOK | In stock |
| Eye X.Lite 120 Control | 780 NOK | 1495 NOK | In stock |
| Eye V.Lite 130 Power | 490 NOK | 895 NOK | In stock |
| Tecnifibre Carboflex 125 S | 840 NOK | 1499 NOK | In stock |
| Tecnifibre Suprem 125 SB | 840 NOK | 1499 NOK | Out of stock |
| Grays strings | 50 NOK | N/A | In stock |
| Karakal PU Super Grip | 20 NOK | 50 NOK | In stock |
| Wilson Pro Overgrip | 15 NOK | N/A | In stock |
| Luxilon Overgrip | 15 NOK | N/A | In stock |